Map Widget
Important
This section applies to the new style Map widget, i.e. the map widget available in software versions from AIMMS 4.73 onwards. Most of this section also applies to the map widget available in software versions from AIMMS 4.61 up to 4.72. Maximum Relative Size, Icons for Nodes, Store Focus with hover and select for arcs, Heatmap and Custom HTML Tooltips for nodes and arcs are available only from version 4.73 onwards.
The Map widget allows you to display a map in the background and show a network with nodes and arcs on top of the map. A simple situation is for example when a transport identifier indexed over factories f and centers c in the TransNet application (see the "Quick Start: My First WebUI" section) is displayed like in the following picture: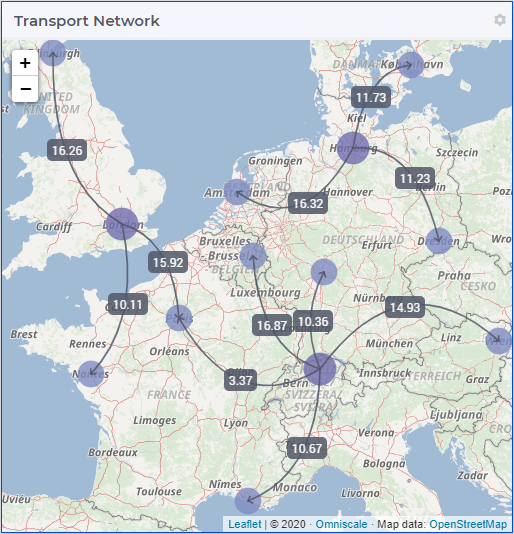 The Map widget in WebUI can display many different types of data on a map. For example:
Icons for the type of asset, like Distribution Center, Production Facility and Stores.

Color for stock levels, like green for in stock and red for out of stock.

Node sizes for capacity of the asset

Arc width for volume of product flow (with optional labels to display the value in text)

Heatmap for geographical distribution of demand
The map displayed in the background is provided by Omniscale, when the application is running on localhost (developer mode, or on a local AIMMS PRO setup) and also when the application is deployed on the AIMMS PRO cloud. If the application has been deployed on-premise using a different domain the map server will roll back to OpenStreetMaps. An Internet connection is required for rendering the map. Assuming the connection is available, the map may be zoomed at various levels (see also the Zoom option mentioned further below):

The network with nodes and arcs on top of the map must be defined in terms of identifiers declared in the AIMMS model.
In this section we illustrate how to create, configure, and use such a map widget rendering a network in the AIMMS WebUI.
Important
We also provide some guidelines and best practices for the map widget usage at the end of this section, please consider them before employing the map widget within your application.