Gantt Chart Widget
The Gantt chart widget allows you to visualize a planning: the horizontal axis of the Gantt chart shows a time scale and the vertical axis typically shows a set of resources. Each bar in the Gantt chart represents a task (or job).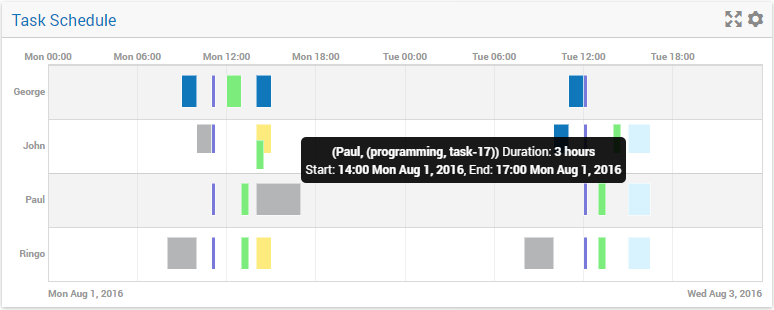 In the example Gantt chart displayed in the picture above, a number of features of this widget are visible:
The rows of the chart are alternately colored white and light gray, to make it easier for the user to distinguish between consecutive rows.

Overlapping or partly overlapping bars in the chart are always displayed in such a way that it is unambiguously clear that they do.

The default or custom tooltip, appearing when you hover over a specific bar, shows detailed information about the task.

The ability to add additional text in the bars to provide additional clarity about the task. Please note that the text will be clipped when it is too large for the task at hand.

The top X-axis annotation intelligently shows the points in time, based on the total time duration displayed in the chart. In this case, it displays hours. If, for example, you have a chart displaying data over a few months, the top X-axis will show dates instead of hours.

The bottom X-axis always shows the begin date on the left and the end date on the right. If you have a chart only showing hours on the top X-axis, the bottom X-axis makes it clear to which days these hours refer.

In case of a transition to or from Daylight Saving Time, the X-axis annotations make this clear by a reference to the relevant UTC time. For example 'Sun 02:00 (UTC+2)' and 'Sun 07:00 (UTC+1)' for a Gantt chart that shows October 30, 2016, 03:00 (which is the time DST ended in the Netherlands).